martial-arts thinking kid
Out of the minds of babes ….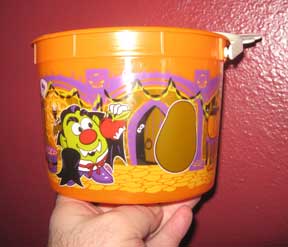 The other day, we went to McDonald's for dinner. Hey, we don't do it often. (If you want to know why we go there at all, write me. It's an interesting reason.)
Anyway, our 12-year old daughter, Quinn Pascal, ordered a Happy Meal. She's not interested in the toys, but it's the perfect-sized meal for her.
This time, the meal came in a small, plastic bucket. I assume that they want kids to use them for Trick-or-Treat purposes, on Halloween.
As a joke, I told her she could take it into the shower and play with it. (She used to love to pour bath water from one container to another, when she was a little rugrat.
My daughter lifted the handle to the bucket and countered my suggestion with, "Or Pop, you could use it to practice EYE JABS!"
All I could respond with was, "I like the way you're thinking."
Hmm. Eye Jabs? I wonder if she has been reading a certain chapter in How to End the Fight With One Hit.
Tags: eye jabs, mcdonald's martial arts, solo training, train alone, training devices, training equipment