Featured Martial-Arts Book …
Recently, I overheard some martial artists in a conversation at an event in the Northwest; they were talking "junk" about wrist locks. What was funny was that these guys had no clue that I was the author of one of the most critically-acclaimed wrist-locks books of all time.
I could have just walked away. (Chuckle.)
.
Would you like to know what I did next?
No, I didn't beat the crap out of them. Here's what happened …
I walked down the stairs of the cabin to the communal area. Both were still discussing how impossible it is to wrist lock someone who is attacking you.
I asked, "Do you mind if I add my three cents' worth to the conversation?"

"Sure," said the older of the two.

"Your new book is pretty cool. I haven't read it all, yet, but the first couple of chapters were great," said the martial artist, who looked to be in his 20s.

"Thanks," I responded. "It's a new book, so I am eager for any comments … and compliments. By the way, did you know that I wrote a book on wrist locks?"

Both of them smiled, and the younger one, laughed a little.

I continued, "That's why I came down here…."
.
Wrist-Locks Demonstration
For the next 20 minutes, I gave them both a demonstration and a mini-seminar on how practical wrist locks really could be.
I showed them how to get control of a punch, complete with counterattacks, before shutting down the enemy with a joint control. They were both amazed at how little effort it took to maintain complete control. And with a slight angle adjustment, counter kicks were impossible.
In the end, both guys bought copies of my book, while I protested the entire time that I hadn't meant this to be a sales pitch. I was willing to teach anything they needed … without the book.
As I said, both bought Wrist Locks; one even bought an extra copy for a friend.
.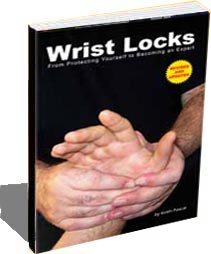 .
Wrist Locks Featured Book
Wrist Locks: From Protecting Yourself to Becoming an Expert is Kerwin Benson Publishing's featured martial-arts book:
It outsells all of our other printed books
It's in the top 150,000 of ALL books sold on Amazon (not bad)
Over 50% of the people who view the Amazon page, buy the book from them
The new edition has 423 photos
It has received positive reviews in many police and martial-arts magazines
The first edition (limited, simple line drawings) sells for outrageous prices on the Net.
To celebrate the success of this soft-cover book, if you order it now, you will receive 3 extra wrist-locks ebonuses — this is in addition to the ones included with the regular offer.