Martial Arts Mastery
The Old List is Closing Down…
Long Live the New Martial Arts Mastery (2016)
Because of the change, I'd like to give you a copy of this new ebooklet: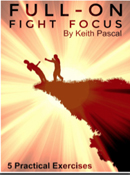 There are potentially some key weak points in a fight, and I want to make sure that you aren't susceptible to them.
Full-On Fight Focus: 5 Practical Exercises will make sure that you stay focused and avoid these distractions. We've touched on a few of them in previous issues of Martial Arts Mastery, but here, they are collected into one spot.
To the quick lessons, I've added some practical action steps that you can put to use immediately.
When you download this ebook, you'll either revisit an old skill, or develop an important new one. And after you read the ebooklet, you'll still receive your Free Martial Arts Mastery newsletter, emailed weekly to your inbox.
Martial Arts Mastery: A Tell-All of Tips, Tactics, and Techniques is still one of the longest-running martial-arts ezines on the internet. Period. (We just switched email addresses.)
And when you sign up, you'll still be subscribed to The Newsletter you look forward to reading on Tuesdays.
You'll continue to read articles on practical self-defense. (This is still NOT a kata or competition newsletter; the focus is on real self-defense.)

Sometimes, as many of you already know, you get an occasional off-the-wall issue with an article that will … uh … make you think.
You'll also be privy to announcements of any new books or ebooks that I, Keith Pascal, write … often before they are released to the rest of the internet.
Sign up now to the new version:
---