punch ecourse
Back "In Print" for a Limited Time
"Develop the Skills to Punch Harder, Faster, and More Efficiently … 100% Guaranteed!"
From Keith Pascal, martial arts author …
I can't believe that I let this Punch eCourse stay out of print for over a year. That was definitely not my intent. Really.
Kerwin Benson Publishing is making it available for an instant download, only until they decide the future of the five punch volumes. In other words, now's the time to get it … while you can!
If you have been looking for a complete course on punching harder, faster, and more efficiently, then I definitely have something to tell you about …
Are you someone who really wants actual lessons on how to develop explosive punches, punch with super speed, and make all of your punch techniques more efficient?
You are going to love this 5-VOLUME Punch eCourse: This amazing new set of ebooks is called, "The Punch eCourse: How to Punch Harder, Faster, and More Efficiently." It goes way beyond my previous ebook on punching, "The Punch Papers." In fact, so much so, that I have retired The Punch Papers — permanently.
Imagine being able to punch with such speed and power that your opponents can't defend against your barrage of hits.
Wouldn't that be great?
Or what about if you could really learn the straight blast — Bruce Lee style? Or apply the straight-blast lessons to your own martial arts style?
These ebooks will improve your punches, no matter what your current level of martial arts.
And with these punches, you will develop the competence to drop a big attacker!
Picture being able to shorten your power punch — it will still be so hard that your opponent feels, "building-moving" penetration — not just a push backwards. Take the instructions from "Knockdown Punches" to a new level. That's what this brand-new e-book set helps you do.
And it's not like any other eCourse you've ever read on punching harder, faster, and more efficiently
Why? Simply, I started with The Punch Papers ebook, then ripped it apart. I eliminated the weak parts, took out the "article flavor," rewrote everything in lesson format — complete with lots and lots of photos.
I also took seven years' worth of customer and reader questions, and …
I answered them! I incorporated exactly what you want to know into the pages of these 5 Volumes.
Which means no fluff. Just the real answers you want to know. The skills you need to perfect. You'll discover some very exciting tips. You'll develop new punching abilities. And you will come away with some dynamite punches. Fast and hard. Super Effective. (I know that sounds like hype, but it's not. 30 years worth of martial-arts experience backs these lessons.)
.
Here's a sneek peak at what you'll discover in Volume One of ""The Punch eCourse: How to Punch Harder, Faster, and More Efficiently" :
Learn an expert punch and tweak it until it's perfect. Each student learns a different punch.
Simple ways to master punch fundamentals. This includes perfecting direction, avoiding injuries, and so on. True masters know that some of the fundamentals are never perfected by the masses.
The little-known ways to keep your arm in the proper position, always. After this lesson, it will be much harder for others to get in on you. (Finally, this useful tactic is put into words and photos.)
Proven exercises to teach you what to do with the hand that's not punching. Most people get it wrong. If you know anything about Filipino fighting principles … that's a start.
My secret weapon. This really is the reason that my punches and my students' improve at such an astounding rate.
Punching with physical limitations. Punching if you are young. And punching secrets that work for those who … have seen more than 5 decades.
Discover in a matter of minutes one position change for more power. This is also a great position for protecting your lines.
Another "worth the price of the book." This may seem small now, but as you progress, it will make a HUGE difference in the way you punch.
How to really master vertical punches — with lots of photos.
There's more to this punch than meets the eye. I'll show you how to master it to "your" satisfaction.
More than you ever wanted to know about the back fist — with 8 tips, plus a special exercise, contributed b y a famous martial artist. (Hint: He's the author of one of the most popular martial-arts books around.)
.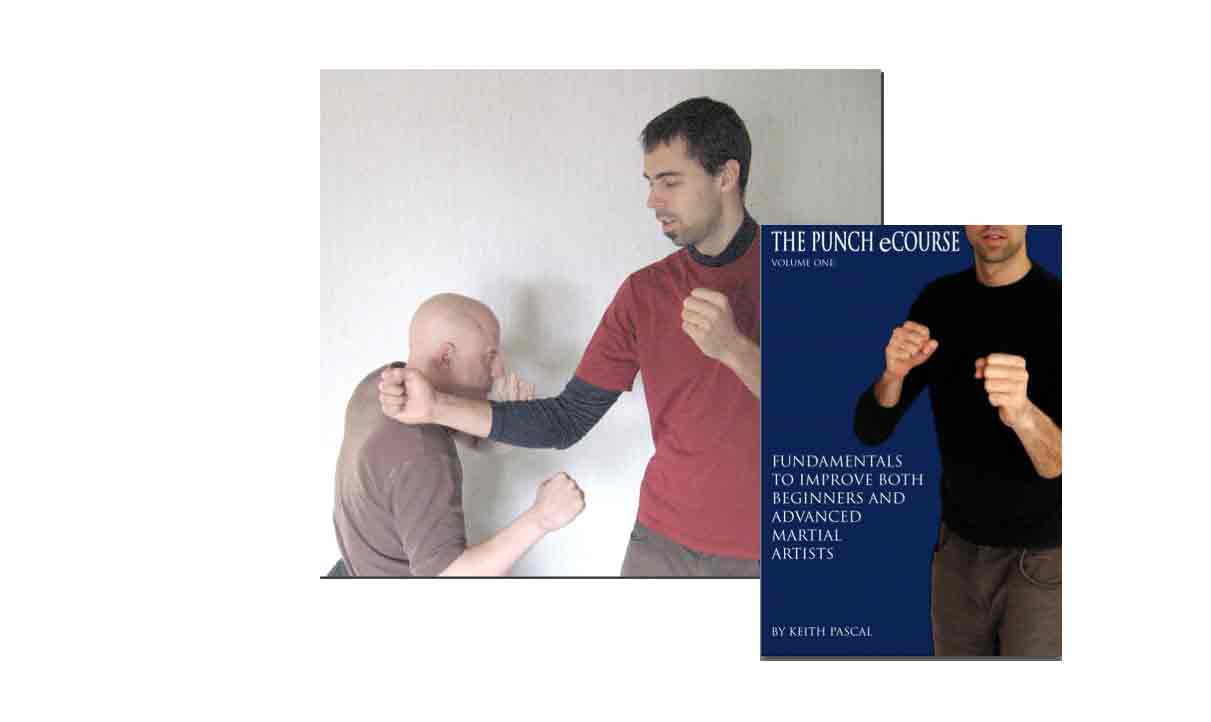 . This is so much more than The Punch Papers could ever be.
Together, we'll work on stance and footwork. You'll move fluidly, whether you are tall and gangly or short and "stout."And we have only discussed half of the first Volume of "The Punch eCourse: How to Punch Harder, Faster, and More Efficiently. That's why you should own this book today (in fact, you can be reading in as little as 5 minutes from now!)..
What's a resource like this worth?
To have me teach you all of this would cost thousands and thousands of dollars. (I just don't have the time to work with more people!) I won't even offer private lessons, because my time is too valuable. So, I put years' worth of lessons into five volumes.Everything is explained in PLAIN English. Which means it's easy to read and understand. And it's logically laid out. And there are tons of photos.
Available as an Instant Download
Only $97!
This is an electronic book (e-book) that can be downloaded to your computer in a flash — well, actually there are 5 volumes and bonuses, so it make take a little longer. Which means you can be reading it and discovering all these amazing secrets in as little as 5-10 minutes from now.
So I figure I'll be able to offer this fantastic resource of information (which if you follow the tips contained in its pages could really give you some amazing benefits) to more people. And make my investment back over time.
No matter what however, it's a bargain for you. And yes, I plan on raising the temporarily out of print Once I get a few more testimonials from satisfied customers, and produce my next ebook, the price will increase. My publishing company will test higher prices.
.
---
Complete Satisfaction Guarantee …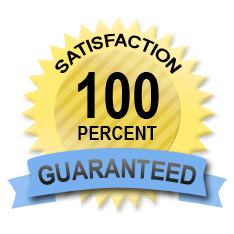 .
100% RISK-FREE MONEY BACK GUARANTEE
Hey, you're my customer. And if you're not happy, it looks bad on me. So if you're not happy with what you discover from "The Punch eCourse: How to Punch Harder, Faster, and More Efficiently," I don't expect … or want … to keep your money.
Just simply whip off an email to me and I'll happily refund your money in full (in fact, I'd be embarrassed to keep it).
But… the eCourse is yours to keep no matter what, as a "thank you" gift from me!
Okay? So you really can't lose! The ebook's yours no matter what.
That's about as fair as it gets, don't you agree?
---
Before you order, I would like to tell you what else you'll get in your five Volumes:
In Volume One, you'll also learn how to:
Counter punches, evaluate punches, and combine punches. Very useful instruction.
You'll also get four practice exercises for your blasting punches.
Use rear-hand punches effectively, and avoid using them in certain circumstances.
Get rid of bad automatic responses … including panic responses. If you are a beginner, then you want to know these practice tips. Really.You'll end this volume with exercises for switching the game in a fight.
.

In Volume Two on Developing Super Punching Speed, you learn:
A secret tip for punching faster. And an experiment that will prove the method.
How to have perfect footwork with your speed punches.
Combining the beat for super speed. This is one of the real secrets of martial arts.
Another "worth the price of the book" lesson. I thought all
JKDers knew these exercises for fast punches. Either I was wrong, or they don't know how to use the information. You'll learn to use these combinations, to make your punches super fast.
Even more on the JKD way — this time, you use double checks, to make your punches whiz by.
how to punch after being punched. This time, I go beyond and share another exercise — you get two.
Even more speed with a detailed straight blast.
Some adjustments for even more speed. Apply these to different punches.
Gung-fu super speed … all by feel.
Clotheslining and developing your technique filter.
Drills for more speed … and using a clothesline effectively.
Speed, snap-back punches.
A special punch — not with the fist. Not with the elbow, head, knee, hand, foot, or even the shoulder. This is special … and it causes a lot of pain.
How to fix your punch, and a great technique.
4 More exercises to develop super speed.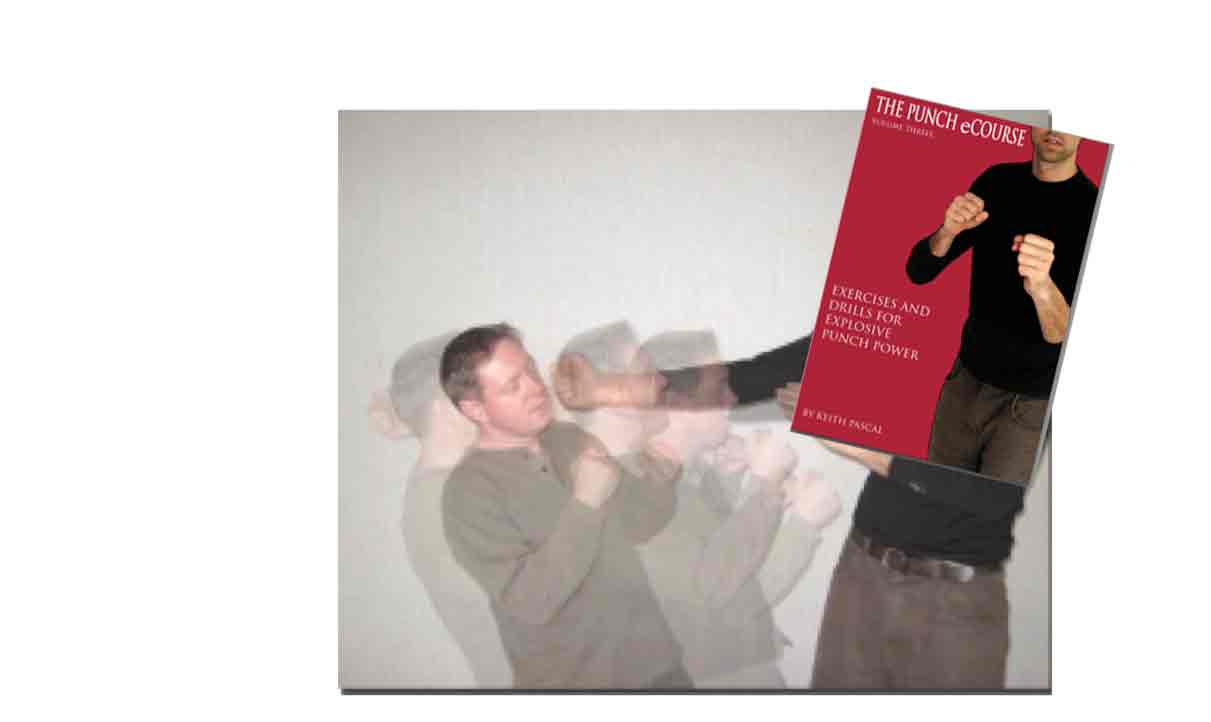 .
And then in Volume Three, we move on to Explosive Punch Power:
You are just minutes away from discovering:
A super-cheap training device, and the exercises to go with it.
6 Power-Punching Target tips. Practice these for just a few days and see a difference.
4 Phases of Top & Bottom Bag training. One exercise is known by very few — and it will make all the difference. That's why the T & B bag is in the power volume.
An anger tactic.
Develop power even in your senior years. Some of the best martial artists are "seasoned."
How to knock someone out COLD! — 3 different jaw strikes. Angle and force make or "break" the punch.
The secret of vacuum hits. You won't believe it, until you experience the test. Plus instructions for turning the force into a practical punch.
4 suggestion for more effective heavy bag training.And the last four lessons are about developing even more power, including a bonus chapter that I hesitated writing. This bonus is your gateway to the one-inch and three-inch punches.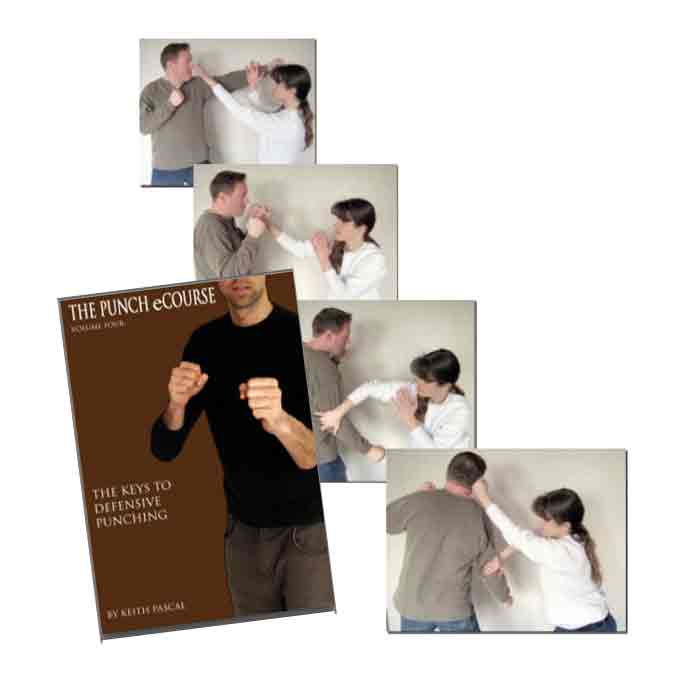 .
Next, you'll learn how to use your punches in defensive situations.
Volume Four covers:
What to do if you have ever had problems blolcking fast punches. This is the direct and efficient response.
Finding targets … a lot of targets. This is a worthwhile assignment, even if it seems just a little tedious.
You also learn making your defensive punches even more effective. You'll be able to measure the difference.
A kick-punch combination that has the timing of a finesse. The punch slides in so easily.
What to do if you keep getting punched. I bet, I can shut down almost half of the attacks that are getting in on you with this one lesson.
Taking fast barrages of punches.
2 lessons on taking other attacks, specifically spins and grapples.
A Very Special Lesson For Beginners. This is the one that could make all of the difference. (I have two new stories, both true, and both will hammer home the point.)
And you get 4 more complete lessons on traps-to-punches, overcoming punch frustrations, practical application, a two-person punch exercise, and a logical tactic.
You even get a bonus lesson on defense punching.
.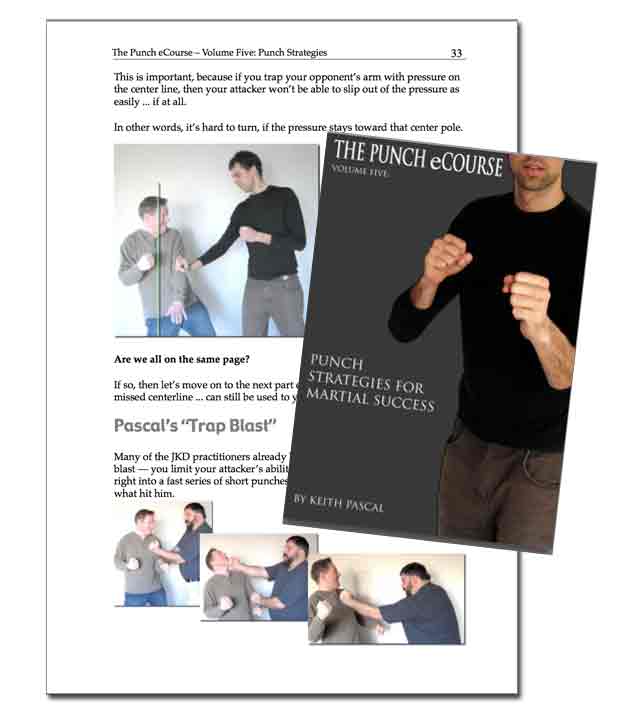 Volume Five Teaches Punch Strategies
This last volume is such an important component. It is the glue that binds the other lessons.
After all, what good is punching, if you can't land them. You need to be able to use your punches, at just the right time, in just the right way.
I'll show you:
All about timing and distance. You need this training for effective punches.
How to develop a fast reaction to anyone who resists you. (Remember, there are lots of photos throughout, to show you how to do the punch.)
All about distant fakes. I wrote about this before, but now, with photos, you'll be able to estimate the distance of your own fake.
All about position punching. If you are a blocker, you need this lesson. And you need to rebuild how you respond … use your power, for a speedy response.
If you can't find an opening, then you should try the exercise in Lesson 55.
I am excited for you.
You'll also learn:
 An anger tactic.
Getting close enough to be able to hit without being hit
How to find "Great" openings for your punches. This is different from Lesson 55.
Efficient punch responses, and how to make it all work when it counts.
And finally, the last lesson is one of the most important. If you have ever lost a fight, then you should peruse this last exercise.
.
Whew — 65 Lessons, in All!
Now, only $97! (For 65 Lessons, plus ebonuses)
Let me tell you what I'll also do to make this the best investment you ever make. I'm going to throw in some free bonuses that are literally worth more in money terms than my e-book itself!
Simply grab your copy of "The Punch eCourse" right now, and here's what I'll throw in:
FREE BONUS #1: "Your Punch-First Response: Becoming a Superior Martial Artist"
Someone is coming in hard and fast. This is your best bet for reacting with an efficient, direct response.
You'll discover:
More ways to stop clotheslines and back fists.
A more efficient clothesline strike. It's a biut different — tighter angles.
The worst response … what 90% of the martial artists would do first. Wrong!
.
Not bad, right? But that's not all you get! Because I'm also throwing in:
FREE BONUS #2: "Tips for Taking on a Boxer"
Are you beginning to see how valuable this package is? With this bonus you'll know the essentials if you are ever going to have a chance of surviving against a fast boxer.
Here's what is revealed:
Realistic advice for a martial artist
Tips for dealing with a boxer's natural movements.
How to stop a boxer by playing dirty. Surprise!
.
Imagine how you'd feel if you knew these things! YOURS FREE when you order "The Punch eCourse: How to Punch Harder, Faster, and More Efficiently".You are reading this, aren't you?
Well the good news is, that's still not all. Because I have another gift for you.
.
FREE BONUS #3: "Faster Eye Jabs"
You don't know it yet but, at the end of this bonus you'll know everything about 6 ebooklets, about 30+ pages each that will round out your knife fighting knowledge.. Here's a short list of what this third amazing bonus contains:
How to cut the distance with position
The panic position that's good for you. It will almost guarantee you get in the first, and maybe only jab (necessary).
Ways to guarantee eye jab success.
.
These are valuable bonuses — guaranteed!
[features_box_blue width="85%" + border="2px"]
"I have found Keith's punch advice to be an invaluable reference for providing new ideas and further exploring and expanding old ones.One of the greatest strengths is the inclusion of the associated drills that allow you to fully develop and understand the principles and mechanisms presented.
"I have noticed a definite increase in both the power and efficiency, in a relatively short time, of my students' and my own strikes since implementing a number of the drills into my practice and teaching."
-Richard Zaruba, Head Instructor Kuk Sool Won of Grand Forks
[/features_box_blue]
[features_box_blue width="85%" + border="2px"]
"I am a bit of a book and video-aholic. In over 46 years of martial arts training, I have collected thousands of books and martial arts videos. I have a lot of stuff on punching. Speed Punching, power punching, wing chun punching, kenpo punching.You name it I have a book on it. Recently, I read Keith Pascal's The Punch Papers. Now I have one book that has everything that all of the others have and so much more.
This is without a doubt the most comprehensive book that I have ever read on the subject of punching. I have used many of its drills and suggestions in my classes."
.-Dr. Larry Sanders Sijo Nei Wai Chia Kung Fu Soke Sessen Jutsu Aiki Ju jutsu
[/features_box_blue]
As they say, the proof is in the pudding. And these people are super happy. Just like you'll be.

You can't leave this page empty handed, can you?
For a mere ______, you're getting the answers you need … PLUS MORE. Now, you can only get this product from me. It's not available in libraries or anywhere else on the net. Just imagine being able to get these answers downloaded to you right away.
---
Keith Pascal
P.S.Don't forget all of the valuable ebonuses that you'll get if you order the Punch eCourse, now. This is a limited-time offer.