Punch-Fundamentals-SPECIAL
VOLUME 3 IS HERE!
Martial Arts Mastery Special …Did you know …
Well over a decade ago, I published the Punch Papers, an ebook on punching faster, harder, and more effectively. Its success and the success of Wrist Locks were what really launched my writing career.
Years later, I updated the ebook with more articles on punching. The Punch Papers 2.0 was more than double the size of its original version.
Both versions of the Punching ebook were a whopping success!
Then, in 2008, I ripped the Papers apart, and created new content … a Punch eCourse.
It's a 5-volume course (PDF ebooks), all on developing incredible punches. And it, too, has been very successful.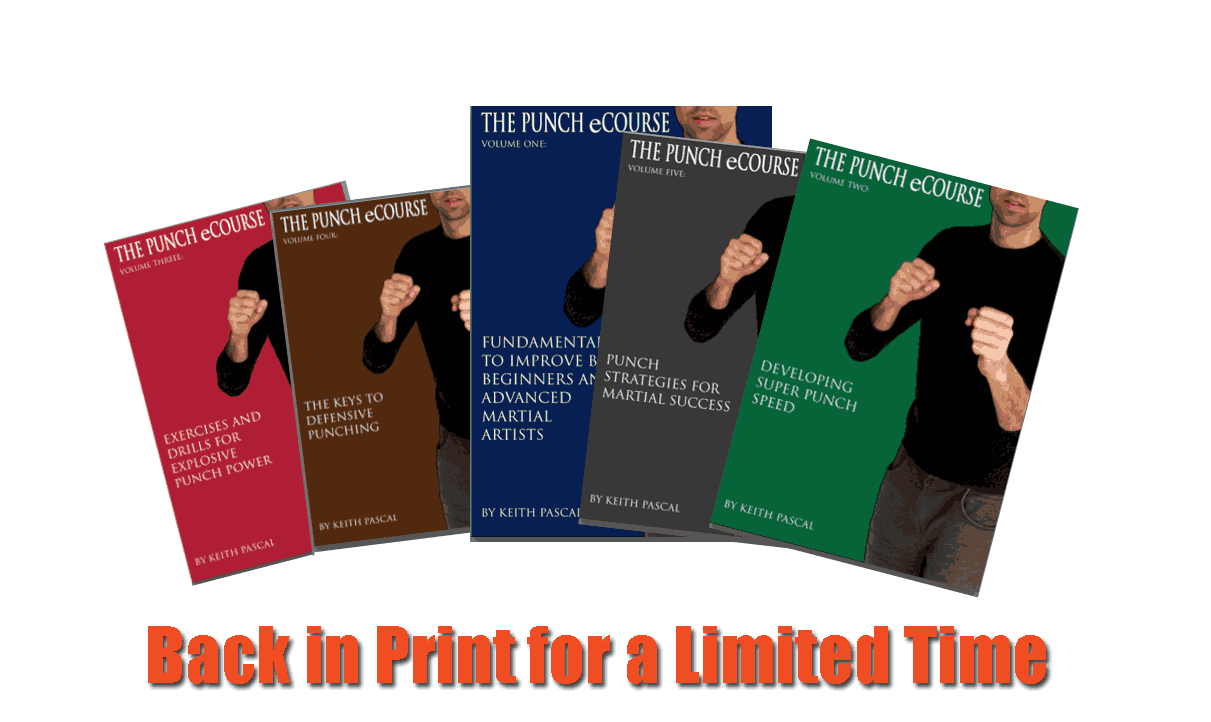 It has always sold for around $100 for the five volumes … sometimes a little more, and occasionally, a little less. But it has always been around $20 (sometimes over $30) per volume. The catch is … you had to buy all of them, to get the deal.
Well, it's mid-summer and it's time for you to see some real punch improvement.
A Punch Improvement Offer You Can't Refuse
I have never offered the following deal … and probably never will, again. You need to take advantage of these special offers as they become available.
Volume One  = SPECIAL OVER
Volume Two  = SPECIAL OVER
VOLUME THREE
Starting today, and for the next few days, you can buy The Punch eCourse: Volume THREE: Exercises and Drills for Explosive Punch Power, for a very special price: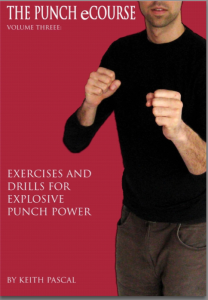 The Punch eCourse: Volume THREE: $10
Then in a few days, if you want, you can buy …
The Punch eCourse: Volume FOUR: $11
And finally, you'll have three or four days to buy …
The Punch eCourse: Volume FIVE: $12
And I'll make sure each volume comes with one of the punch ebonuses!
Order now. The offer will change in a few days …
Take a look at the table of contents for the THIRD VOLUME ONLY:
31: Introduction: Explosive Power Punching … 5
Lesson 32: Explosive Punch Power … 9
Lesson 33: 6 Power Punching Target Tips … 21
Lesson 34: Creative Top-and-Bottom Bag Training for Solid Hits … 25
Lesson 35: How to Strike the Jaw … 35
Lesson 36: Vacuum Hits … 41
Lesson 37: Heavy Bag Power Training … 47
Lesson 38: Head, Hips, and Ankles … 53
Lesson 39: More Power in Under 30 Seconds! … 55
Lesson 40: Punch Energy … 59
Punch Power Bonus Lesson … 65
Table of Contents to All Volumes … 71 
Remember, Volume THREE will only be available for the next few days.
Don't miss out on these offers. I meanHALF PRICE … and you can pick and choose. Wow!
Here is a list of all five volumes:
AVAILABLE TODAY – The Punch eCourse: Volume THREE: Exercises and Drills for Explosive Punch Power
The Punch eCourse: Volume TWO: Developing Super Punch Speed
The Punch eCourse: Volume THREE: Exercises and Drills for Explosive Punch Power
The Punch eCourse: Volume FOUR: The Keys to Defensive Punching
The Punch eCourse: Volume FIVE: Punch Strategies for Martial Success
 You don't have to buy them all … but once each offer is gone, it won't come back: