Stay Safe
This Really Is The Parable for Finding Safety and Comfort in Dangerous Times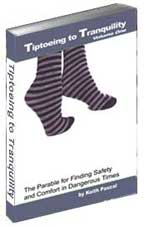 Tiptoeing to Tranquility is a book primarily for non-martial artists. It teaches everyday people how to find safety in their own communities and also how to stay safe when traveling.
This book is easy to read, and many digest it in one evening.
Tiptoeing to Tranquility makes a great gift for all of your friends and family — anyone whose safety you worry about …
A Mother and Her Daughter Search for Safety and Comfort …
They desire a sense of securitry when out and about in their city, but they don't necessarily want to take martial arts lessons.
So, it's ironic that their lessons in awareness come directly from a master martial artist.
They learn with both direct and more subtle, indirect lessons.
And you (or those you care about if Tiptoeing is a gift) will learn with indirect lessons too. Just reading Tiptoeing will make you rethink how you travel through your community.
And just by reading a book on becoming more aware, you will, in fact, become more aware.
It's strange, but true. This book will help you (and your loved ones) to lead safer lives …
.

.

100% RISK-FREE MONEY BACK GUARANTEE

I have been a martial-arts author for a long time, and I really do value my reputation. You need something entertaining that will help you (or your loved ones) find safety and comfort.

If you decide that Tiptoeing to Tranquility isn't right for you …

Just simply return the book to me, and I'll happily refund your money in full (in fact, I'd be embarrassed to keep it). I am a very honest and ethical person. And I stand behind my books and the true meaning of a satisfaction guarantee.
That's about the best guarantee that I know of.
Look, you can give this book to anyone of any age, from 12-100, and in one evening they could be leading a safer life.
I don't mean to be the messenger of doom and gloom, but there really are mean and nasty people out there, waiting to prey on the unsuspecting.
Tiptoeing to Tranquility can be the first line of defense.
Get copies for friends and relatives, and be sure to grab a copy for yourself.
I wish peace and safety for you and your loved ones,
Keith Pascal
P.S. Give the gift of confidence and the chance to lead a safer life.
$17
(Postage included!)
Order Tiptoeing to Tranquility