3 martial arts ebooks

3 Martial Arts eBooks for $10
1. The Circle and Gauntlet Training Exercises (14 pages)

Martial-arts teachers have written complimenting me on the original ebooklet on Circle Training For Fast Improvement.
These teachers wanted more fun activities (games?) that guarantee such fast improvement. Specifically, they want drills that really help them learn to handle multiple attackers. Enter … Gauntlet Training.
Now, you get both ebooklets combined into one. (And Gauntlet Training is 100% new.)
.

2. The New Speed-e-Book (31 pages)

The original SpeedeBook was my first ebonus that I created over a decade ago. Who knew that it would be that popular … or that the exercises for developing a quick-reaction response would be copied by so many. (There is even someone selling a device for practicing the exercise … uh, you can do it for free.)

Now, this book has been updated (revamped) with some new information … new ideas for increasing your kicking speed, reactions, and so on. All in less than 35 pages.
.

3. The New Taking On a Boxer (33 pages)

This is one of the fancy ebonuses that's included with the $100 Punch eCourse.
I won't claim to be able to teach you everything there is to know about defeating someone who is adept at boxing — not in 33 page! But I will give you a practical way to practice, so that you can develop skills for taking on a boxer.
.

PLUS a couple of eBonuses.

You know me … I like to throw in even more value for your money, when I can. Well, this time, I am able to help you out with a couple of extra ebonuses.
I think you'll like them. Enough said.
Or COMBINE and SAVE!
Add 100 Martial Arts Articles for only $4 more (regularly $10)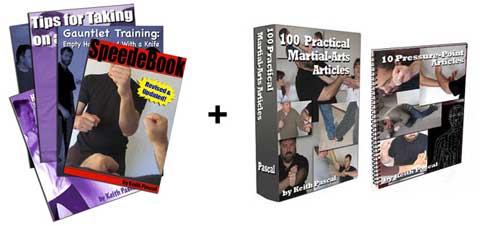 If you like reading my martial-arts articles and find them useful, then I have an incredible offer for you …
You get all of the above ebooklets, PLUS 100 Martial Arts Articles (and the ebonus on Pressure Points) for only $14, total.
.
.
.