end-the-fight-4-subscribers
Imagine If You Could Actually End the Fight with One Hit or Kick
Suspend your disbelief while you read this …

Keith Pascal here,
For a minute or two, I'd like you to lock up the pessimistic part of your brain, and follow along with an open mind….
First of all, if you aren't a subscriber to one of my newsletters (lists), then you shouldn't be on this page. Period. This offer is for loyal subscribers only. (And we do spot check, from time to time.)
Okay, so we've been talking about the Death Touch. Have you been convinced that an actual Death Touch (that takes 24 hours to work) might not be the most practical technique in your repertoire?
It would be much more beneficial to be able to completely control any attack with just a minimal amount of work.
Note: I once stopped an attempted pile-on by some guys playing rough, with one jab to one arm. I used a knife edge, open-hand strike (I actually made contact with the outer edge of my wrist) at just the right spot on one attacker's arm. His arm was instantly paralyzed, and I do mean instantly; his friends were so shocked and concerned for their buddy, that they forgot about me … long enough for me to get away. (True story.)
There are lots of benefits to being able to end the fight quickly:
If you're not in the best shape, then you'll expend less energy … you might just survive
Sometimes your escape becomes impeded; one well-placed hit or kick could stop your enemy, then you turn, run, and get away
"Officer, he stabbed at me, first. And I only hit him ONCE in response!"
With multiple assailants, you have to deal with one and then quickly move on to the next … until you can escape
You'll be a lot more confident knowing that you have better methods to control an attacker in a fight
That last point is important.
Confidence goes a long way to allowing you to respond with your best tactics and moves.
Unfortunately, A Lot of Martial Artists Run Up Against a Brick Wall In a Real Fight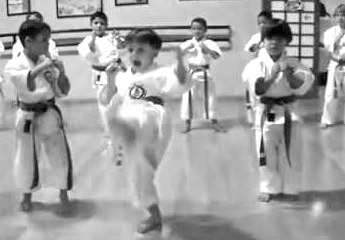 First, as a young kid, I took Judo. Then, six years later, I tried Tae Kwon Do for a little under a year.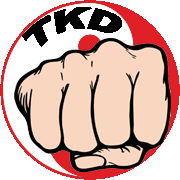 From there, I switched to Karate. (I didn't discover the style that I'm in now, until I was in my late teens.)
So, why didn't I stay with one style back then?
I think it's because they didn't help me enough in real altercations. I just couldn't get in on the bullies of the world. Not only that, but if the fight lasted long enough, then I got the worse end of the encounter.
The longer the fight, the more of a chance that I got hit hard.
Face it, a lot of martial artists:
know they aren't fast enough to land a solid technique — frustrating beyond belief
worry that their techniques won't damage enough to stop an attacker — imagine punches bouncing off the bodybuilder type
don't know the SPECIFIC targets and ways to end a fight (and no, the advice in articles on the Net won't work, like "kick 'em in the groin!")
"Hi Keith,
i just donwloaded your newest e-book, How to End the Fight With One Hit. As usual, it's great!
I've read a lot of books on pressure points, dim mak, etc. — yours is the most practical. The best thing is that you discuss each technique/concept in detail, which makes each point easy to understand.
I can't wait to get to the bonuses.
Cheers,
Military Hand to Hand Combat Instructor
Carlos Hermanos FMA – Co Founder
Don't Make the Same Mistakes that I Did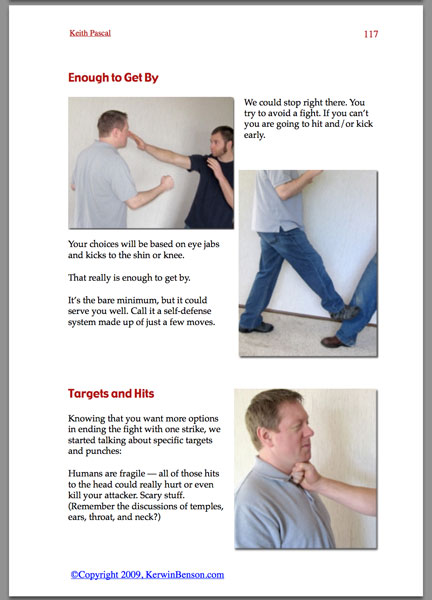 You can learn to end the fight quickly and efficiently. What you need is a little guidance: You need to know all the possible outcomes of an attack, and how you can instantly decide which outcome you want.
Then you need a handful of methods that actually work, and where the instructions are detailed enough that you can make them work the way they are supposed to.
Finally, you ought to have clear in your head what it would take to get you to use these methods to end a fight quickly, and when you should turn and run away. (Believe me, knowing exactly what it would take to get you to respond to violence with violence will fill you with confidence. I explain why in the ebook.)
Remember, how I told you to suspend all disbelief at the beginning of this page?
Well, if some good, old-fashioned skepticism reared its ugly head, don't worry….
The End The Fight with One Hit ePackage comes with a 100%, money-back guarantee.
[features_box_yellow width="75%" + border="2px"]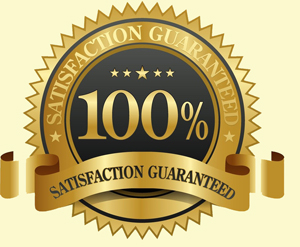 100% RISK-FREE
MONEY BACK GUARANTEE
I became a full-time, martial-arts author in 2000 (16 yrs. ago), and I really value my reputation.
It would do me no good to offer weak drivel. You need something that works. But hey — if you decide that "How to End the Fight with One Hit" isn't right for you, then I'll accept that it's not a good fit. Period.
Simply whip off an email to me, and I'll happily refund your money in full (in fact, I'd be embarrassed to keep it). But… the eBook is yours to keep no matter what, as a "thank you" gift from me!
[/features_box_yellow]
[features_box_red width="75%" + border="2px"]
I have been in martial arts for 40 years. I have studied nerve strikes for the last 25.
What Keith has done in "How to End a Fight in One Hit" is take the techniques that are sometimes dismissed in the martial arts. He logically combined them into one ebook.
He gives some great ideas on how to use these moves to actually "End a Fight in One Hit".
Great book.
I am requiring my adult students to buy it, read it, and relate what they get out of it to the class.
I believe they will all improve.
Thanks Keith.
Daniel Durr, Edgar WI. — 7th Dan Take Kwon Do. (Kobudo instructor was Yamashita Sensei.)  
[/features_box_red]

Here's some of what you'll get in this ebook:
How to prepare yourself mentally even if you only have a second before … (This goes along with planning for your desired outcome.)
A Super-effective Two-Choice Attack and how to let your enemy determine target and technique
The best single technique with at least 5 variations. Discover your personal strike style for this efficient fight ender. Careful with this one!
Knockout punches to the head — precise targets and techniques to achieve a TKO, sometimes with one hit
A vulnerable shot that works (no, not the groin). You'll remember this painful shot  and use it!
Why kidney punches don't work the way you want them to, and a better alternative to stop your attacker with one, quick punch
A better angle to bruise the bone with your punch. You'll appreciate this icing on the cake
And of course, you get more immensely useful how-to information!
You also get an instant download of the following ebonuses:

And you get two more ebonuses on top of that. Surprises!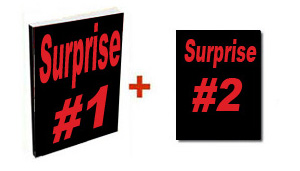 This epackage, without the two extra surprise bonuses sells for $35 and more. (Here's a link to the public sales page for End the Fight With One Hit.)
I'm going to get you an instant download for a very special price, because:
You're a subscriber to one of my newsletters.
I sincerely want you to have the information you need to get a martial arts advantage
I'm hoping to glean a new testimonial, if you like the epackage. (Hint, hint.)
Download your epackage now for only: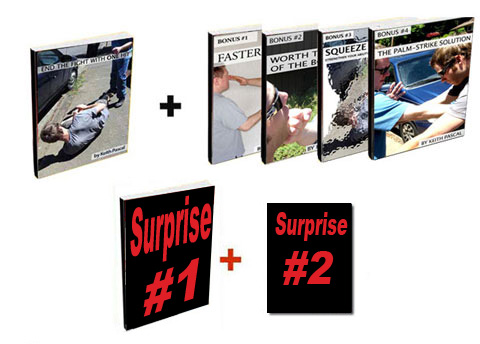 $15
Take advantage of this $15 offer, before it goes back up to $35 … or more. And remember, with this download, you get the four regular bonuses PLUS "At least" TWO SURPRISES!