Oprah Quote applied to Self-Defense
An Oprah Winfrey quote that concerns martial arts?
Have I gone bazonkers?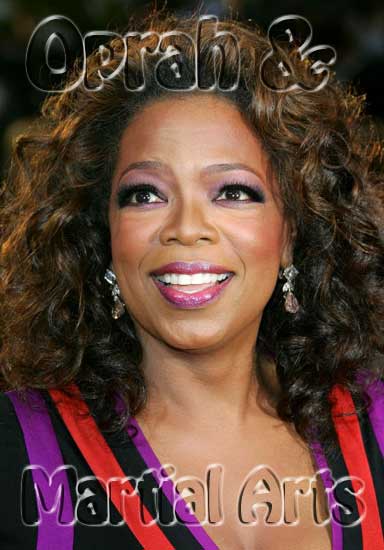 I certainly hope not. And yes, I am sane enough to know that Oprah probably doesn't really have anything to do with self-defense. But believe it or not, from time to time, she says something that resonates with me — it starts me thinking in a martial context.
In fact, I even included her in a dedication in the front of one of my books.
Well, recently another blogger sent me an email with this quote:
Be thankful for what you have; you'll end up having more. If you concentrate on what you don't have, you will never, ever have enough."

— Oprah Winfrey
Martial-Arts Techniques: More or Less?
There is a big debate in the world of martial arts: One camp believes that the more techniques you know, the better you become as a fighter. The other camp's belief is just the opposite — to be effective, you need a small, efficient set of techniques. Too many moves in your head, and you won't be able to call them into play quickly.
[There is scientific evidence that too many choices slows an automatic response/trained reaction.]
I have already provided a logical plan for when to increase and when to reduce the number of moves in your working repertoire. Write me, if you need me to point your toward the ebook.
What Does This Have to Do with the Oprah Quote?
As I said, the illustrious mogul's quote got me thinking (thanks, O.) — what if the quest for more techniques is like the second part of Oprah's saying? What if that particular quest only helps you improve to a certain point, and after that, if get's in the way of your martial competence?
And what if being "thankful for what you have" means spending time perfecting what you already know in the martial arts?
Think of it this way: the best martial artists can win a fight with a single, well-placed, perfectly timed punch or kick. It doesn't have to be anything fancy; the martial-arts move just has to be used correctly.
If you can't make the martial arts techniques that you already know function effectively, then what makes you think that some other punch, kick, or elbow strike is suddenly going to be more effective?
Martial Arts Secrets?
So, if I am supporting the "less is more" side of the martial-arts debate, does that mean there are no secrets in martial arts?
Not at all. Of course, there are martial-arts secrets. Just maybe not the kind you were thinking of.
For example, my entire focus on practical-application writing is to show you how to make your "stuff" work. I don't care if you use old moves or new ones; you need to be able to defend yourself against someone who will have his or her set of moves.
So, my thought for the day is that one of the "hidden gems of martial arts" is to focus on making what you already know effective. (I am here to help.)
Thoughts?
Tags: less techniques, more or less moves, more techniques, oprah martial arts, oprah quote, oprah winfrey, solo training, train alone