Limited-Time-Special
You Get The Same Special Offer, If You Act Now!
If you asked me what's the one ebook package that people rave about the most, (besides the $100+ Punch eCourse), I'd have to say it's How to End the Fight with One Hit.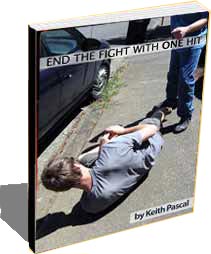 No, I'm not talking about some fantasy where you press a special spot on your enemy and he falls to the ground, lifeless. What we'll be talking about is a no B.S. way of ending the fight efficiently.
There are no long, drawn-out sparring sessions like they treat in traditional martial arts. This is a way to get the job done, now….
This is how to survive! (Pardon the hype.)
You can read more about this ebook and its ebonuses here, but you don't have to pay the $35 price, if you act now. (I temporarily removed the buy buttons on that page.)

Get your instant download NOW for ONLY $9.95
(That's less than TEN BUCKS!)
Warning … this offer will vanish soon. Very soon.