Punch-Fundamentals-SPECIAL
Martial Arts Mastery Special …
Did you know …
Well over a decade ago, I published the Punch Papers, an ebook on punching faster, harder, and more effectively. Its success and the success of Wrist Locks were what really launched my writing career.
Years later, I updated the ebook with more articles on punching. The Punch Papers 2.0 was more than double the size of its original version.
Both versions of the Punching ebook were a whopping success!
Then, in 2008, I ripped the Papers apart, and created new content … a Punch eCourse.
It's a 5-volume course (PDF ebooks), all on developing incredible punches. And it, too, has been very successful.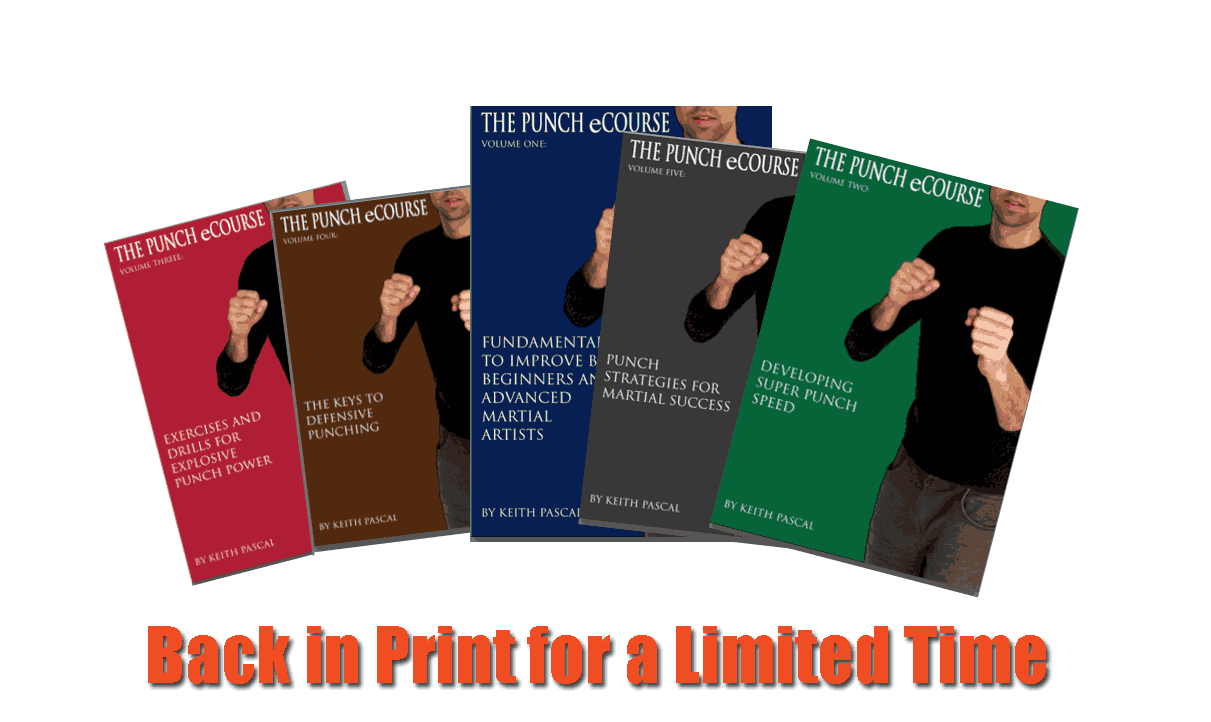 It has always sold for around $100 for the five volumes … sometimes a little more, and occasionally, a little less. But it has always been around $20 (sometimes over $30) per volume. The catch is … you had to buy all of them, to get the deal.
Well, it's mid-summer and it's time for you to see some real punch improvement.
A Punch Improvement Offer You Can't Refuse
I have never offered the following deal … and probably never will, again. You need to take advantage of these special offers as they become available.
Here's how it works:
Starting today, and for the next few days, you can buy The Punch eCourse: Volume TWO: Developing Super Punch Speed, for a very special price: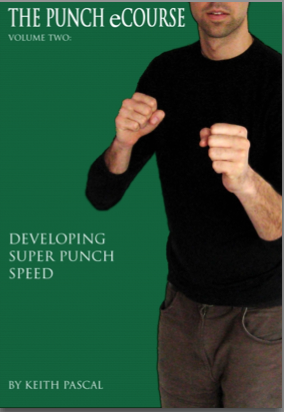 The Punch eCourse: Volume TWO: $9
Then in a few days, if you want, you can buy …
The Punch eCourse: Volume THREE: $10
Next …
The Punch eCourse: Volume FOUR: $11
And finally, you'll have three or four days to buy …
The Punch eCourse: Volume FIVE: $12
And I'll make sure each volume comes with one of the punch ebonuses!
Order now. The offer will change in a few days …
Take a look at the table of contents for the SECOND VOLUME ONLY:
  Introduction to Speed Punching … 5
Lesson 17: Perfect Footwork With Your Speed Punch — Always! … 9
Lesson 18: Combining the Beat for Super Speed … 13
Lesson 19: Another 'Worth the Price of the Book' … 17
Lesson 20: Double Checks While Punching … 25
Lesson 21: The New 'Can You Punch After Being Punched?' … 29
Lesson 22: Even More Speed … 33
Lesson 23: Adjusting For Even More Speed … 39
Lesson 24: Gung Fu Super Speed, By Feel …41
Lesson 25: Clotheslining & Technique Filter … 51
Lesson 26: Practical Clotheslines with Your Punch? … 61
Lesson 27: Speed Snap-backs … 67
Lesson 28: Develop Fast & Efficient Arm Pops … 73
Lesson 29:Fixing Your Punch (And a Great Technique) … 77
Lesson 30: More Exercises for Super Punch Speed …83
Table of Contents to All Volumes … 91
Remember, Volume TWO will only be available for the next few days.
Don't miss out on these offers. I mean HALF PRICE … and you can pick and choose. Wow!
Here is a list of all five volumes:
AVAILABLE TODAY – The Punch eCourse: Volume TWO: Developing Super Punch Speed
The Punch eCourse: Volume TWO: Developing Super Punch Speed
The Punch eCourse: Volume THREE: Exercises and Drills for Explosive Punch Power
The Punch eCourse: Volume FOUR: The Keys to Defensive Punching
The Punch eCourse: Volume FIVE: Punch Strategies for Martial Success
 You don't have to buy them all … but once each offer is gone, it won't come back: