keith special (eFear + eOne Hit)
Special Offer: Order Together and Save
Did you know that I originally wrote How to End the Fight With One Hit to complement Control Your Fear: A Guide For Martial Artists?
.
I figured what was the point of getting rid of the feelings of panic, if you didn't have the moves to back the feeling. It's no good to be confident, and then still get your butt kicked, right?
.
Here's a special offer: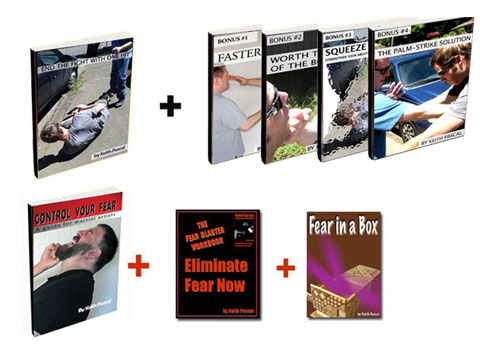 Normally, Control Your Fear sells upwards of $39.95 on other sites. And End the Fight with One Hit sells for $27.95.
.
That's $67.90, if bought separately.
.
.
With this special offer only, you get both ebooks and SIX ebonuses for only …
$29.95
.
You'd better grab this deal before it vanishes. For good.
.
Yes, I want an Instant Download of BOTH ebooks (+ 6 ebonuses) for $29.95.
I JUST WANT a download of Control Your Fear (+ 2 ebonuses) for $17.95.